For the love of films and their power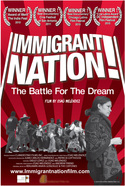 Even before I began working on a master's degree at the Northwestern University, I knew that journalism was changing and that I had to adapt my skills to a variety of areas related to the field. I worked as a freelance producer at WTTW Channel 11, and then I met
Esaú Meléndez
. He asked me to join his production team for the film,
Immigrant Nation!
. I began as a writer, but eventually became an associate producer, which means I worked on anything that was needed. I don't think any of us realized just how much work it would take to do a film on a shoestring budget, but somehow we managed -- and it has been a great success. We have won several awards and we have begun work on our new film. Updates will be coming soon.
Click on the poster image on the left-hand side to go the film's website if you would like to learn more about it or to purchase a DVD.
You can also see the trailer below:
---